Beginnings
In 1684 stadtholder Willem III and Princess Mary bought a small castle: Het Oude Loo. The young couple had a new summer residence built next to the castle, which was to become Paleis Het Loo. It was a perfect location. The new palace was situated at a very low point in the middle of the Veluwe moorland, an extensive hunting ground. The ideal spot for a palace garden, with water flowing in to the garden from higher sources several kilometres away for its flowers and fountains.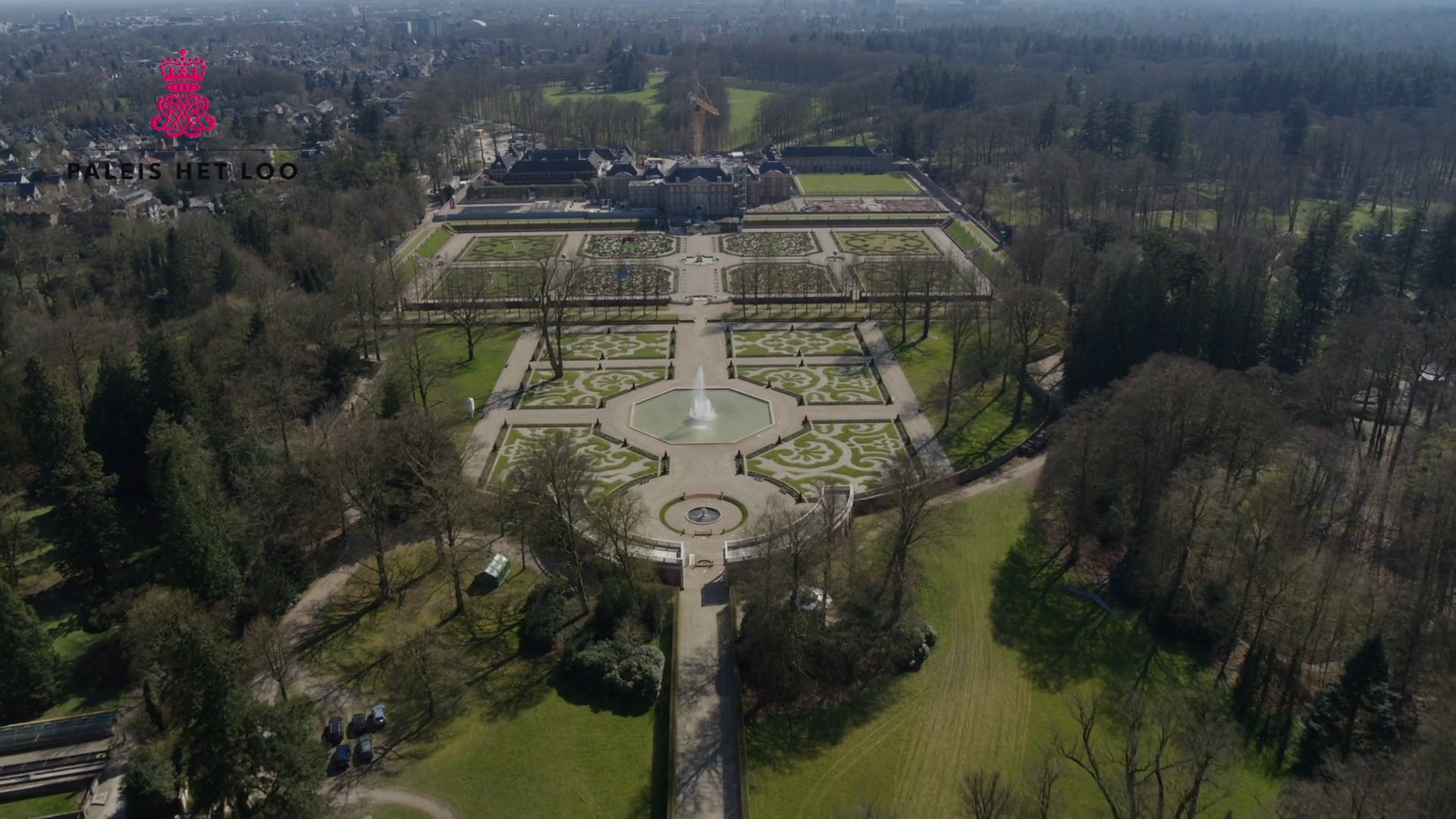 Willem and Mary had Paleis Het Loo extended when they became King and Queen of England, Scotland and Ireland in 1689, transforming it from a modest summer residence to a royal palace. Since one of the monarchs had to remain in the country over which they reigned, Mary stayed in England. As a result, she never saw her beloved palace again before her death at the age of just 32.
Plunder and plaster
After Willem and Mary the Dutch royal family kept Het Loo as their summer palace. 1795 was a low point in the history of Het Loo, when the French army invaded the Netherlands and Stadtholder Willem V and his family were forced to flee. The palace was plundered by French soldiers. But by 1806 Het Loo was occupied once more, by Louis Napoleon, who had been appointed King of Holland by his brother Napoleon Bonaparte. Louis Napoleon had radical changes made to the exterior, with a layer of grey-white plaster applied to its outer walls. It was therefore also known as 'Het Witte Loo' at that time. He had the baroque gardens replaced by a landscape garden in the romantic style.
The palace with a layer of white render, which earned it the name 'Het Witte Loo'.
Kings Willem I and Willem III loved to spend time at Paleis Het Loo, far from their busy lives in The Hague. Het Loo was very special to Wilhelmina, and there was no place she would rather be than her summer palace, as a child, as queen, and as former queen.

The last residents of the palace, Princess Margriet and her family, left in 1977. Paleis Het Loo became a museum in 1984, having been restored in the intervening years. The white render was removed, revealing the 17th-century brickwork once more. The goal of the latest round of alterations, from 2018 to April 2022, was again to bring the palace closer to its original 17th-century state. If you would like to know what has been done, read 'A revamped museum'.